Pregnancy Management Guide for Working Women
Reviewed on : 31 July 2016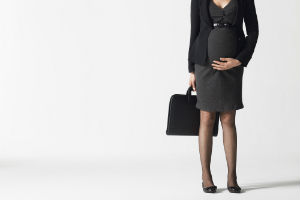 Gifted with innumerable superpowers, a woman is the epitome of strength and resilience. About 67% of pregnant women work full time and choose to work until the time they go into labour. Work and pregnancy can go hand-in-hand, so taking a break from one's professional life is unnecessary , unless advised otherwise by a doctor. If the mother-to-be's work surroundings and environment appear to be safe and she has a normal pregnancy (with no hint of any complications), then she should not hesitate to continue her work until just a few days before her due date. Having said that, one should bear in mind that there are situations where working during one's pregnancy may be like a slippery slope. Thus, it is advisable to book an appointment with one's doctor during the early stages of the pregnancy to make sure that the mother and the baby's health is kept under strict tab.
The doctor might advise one to take a break from work if:
There is a threat of preterm labor. Women expecting twins or with a history of preterm birth in previous pregnancies are generally included in this list.

There have been previous issues related to high blood pressure or if there is a risk of

Pre-eclampsia.

One has had more than one miscarriage or suffers from cervical inadequacy.

The baby's growth is improper.

One's job is physically and mentally demanding, i.e. requires one to stand for extensively long hours and/or working an irregular schedule during odd hours. This can increase the chances of delivering prematurely and it can also result in giving birth to infants with low body weight.
Feel free to get a doctor's consultation on whether it's suitable to continue working or if a modification in work would be advisable so as to disrupt neither work nor the pregnancy. Once the doctor gives the mother-to-be the green signal, she should feel free to continue working in a manner as advised. .
Carrying a life within oneself comes with it's own set of responsibilities that one must unapologetically abide by. Putting oneself and the baby first is imperative! These nine months require a future mother to be as untroubled and relaxed as possible. And if one finds someone, who even remotely understands the struggle and endurance, then it could probably help make this phase smooth sailing for the mom-to-be. Often certain people at work can be of great support at times such as this. Keep them by your side and do not shy away from asking them for help. Besides this, there are several tips one can fall back on to help balance work and the pregnancy simultaneously:
Remember to take frequent breaks, especially if the job requires a lot of walking around and make these breaks a part of your routine. Putting up one's feet on an elevated platform would help reduce the swelling of the feet and the unpleasant back pain.

If the job entails one to be sitting for long periods in front of the computer, then it is imperative that the mom-to-be makes herself a timetable where she takes out 15 minutes, every 2 hours for a brief walk around.

It's also advised to make necessary changes in one's wardrobe and switch to comfortable flats and sandals (no high heels) and loose fitting clothes. One could even try maternity tights and support hose to increase back support, ease bloating and prevent varicose veins.

Drink lots of water and liquids to keep the body hydrated, eat plenty of fresh fruits, since besides providing hydration to the body, they also supply essential vitamins and minerals and help balance out blood sugar levels.

Take frequent washroom breaks. This helps remove toxins from the body and helps steer clear of any urinary infections. Before using washrooms, make sure that they're clean and germ free as personal hygiene is essential, especially at this time. One wouldn't want to be a victim of a Urinary Tract Infection (UTI) at such a time.

It is important to eat regular meals throughout the pregnancy. Always carry nutritious snacks, consume lots of fresh fruits and homemade food whenever you can. Regular consumption of food prevents weakness and a drop in blood sugar level. One should follow a healthy diet plan, so that the mom-to-be and the baby are never deprived of proper nutrition.

To work in comfort adapt the workplace to your needs as best as possible, as this will prove to be beneficial during the pregnancy. Sitting on a chair and staring at a screen isn't the most pleasant posture to be in, so carry a cushion to office which will work as an aid to your aching back.

If stress cannot be done away with, then one must find ways to manage it. One can try deep breathing exercises, meditation, listening to soothing music or simply sitting back and clearing the mind for a while. Indulging in some light informal conversation with friends at work can also be relaxing.

One should rest whenever time permits. This is the time to pamper oneself. One should not overexert, no matter how demanding the job is.

If one begins to feel worn out, then it is all right to take an occasional day off from work to rest and rejuvenate. If focussing at work is hard, take 15-minutes off and squeeze in a quick power nap.

In case an emergency arises, one should give their doctor's number to a few friends as a contingency plan.

One might be a perfectionist, but there are certain points that one must keep in mind while managing a pregnancy with one's work. Taking on extra work and increasing mental pressure and stress is not good and can only harm. Remember to entrust your colleagues with work and trust them to understand and deliver on it.
Being pregnant and working at the same time isn't a cakewalk. It's tiring and can leave one feeling fatigued, though one can persevere. Bringing another being into the world is a blessing women have been gifted with. So one should embrace it, for the burden and the pain is short lived and the happiness is for one to enjoy for a very long time.
Related Content
A Father's Role After Childbirth

1

Bringing up a child is not the responsibility of the mother alone and there are numerous ways in which new fathers can contribute to it.

Mamma! Are You Tired?

0

A pregnancy comes with its own set of good and bad effects and feeling tired could be your best excuse to get some needed rest.

How to Protect your Baby from Diabetes

0

Pregnant women who are diabetic need to make extra efforts to keep their sugar levels under control and minimize any risk to the baby.

Related Groups

Nil
trying to conceive
Select an option to Explore
pregnant
Select an option to Explore
a new mother
Select an option to Explore
caring for a baby
Select an option to Explore
Login/Register
For an enhanced personalized experience, we now offer our users login facility only on the MomPluss mobile apps.

You can download and install our Android or iOS mobile app using the links at the top of the MomPluss Home page.

Any credentials used to register earlier on the MomPluss website will continue to remain valid for login on the mobile apps.

Thank you
The MomPluss Product Team
Verification of Contact
Verified contact ensures security of data. Any one verified contact compulsory for login.
Please enter the OTP send to your email/mobile.
Information
You must be logged in to star an item for follow up.
Invalid Email ID/Mobile No.
The E-mail ID / Mobile Number submitted for login is not registered with any MomPluss user.
Invalid Password
The Password submitted is not valid for this user

Account will be locked after 3 invalid attempts
Account Locked
The Password submitted is not valid for this user

Permitted attempts exceeded
Set Pseudonym
Pseudonym required for activity on groups.
Profile
Information
You can't provide lesser height from the previous saved height.
Information
User Details
Email ID is compulsory for editing other user details.
Information
To access our messaging feature, please login/register.
Confirm Delete
Your selected item(s) will now be deleted.
Delete Request Executed
Schedule item deleted successfully and confirmation sent via MomPluss messaging.