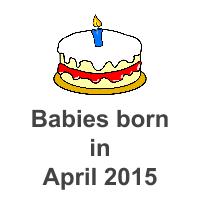 First Birthday :
April 2016
Congratulations ! It is celebration time !
As you get ready to celebrate your baby's first birthday, we invite you to participate in our online baby show contest by uploading up to 2 pictures (max. 2 MB size each) of your baby's first birthday celebration. Our jury of 5 eminent people, chosen from a variety of backgrounds, will select the best 3 pictures from among those uploaded.
If your baby's picture is among the chosen ones then it will be featured on our online platform and you will stand to win 1,000 MomPluss kisses which will be credited into your account. You can use the MomPluss kisses to purchase any product or service which can be ordered on our website or mobile app.
Every participant will receive 200 MomPluss kisses within 1 week of the end of the contest as a birthday gift for your baby.
Click the "Join" button below to express your interest and you will soon receive from us a link, with instructions for uploading your pictures.
Join By : 30th April, 2016
Related Content

Nil
Related Groups
Nil